Shakespeare Come Back to Life
William Shakespeare is a writer that all of us know. He is best known for his writings of Romeo and Juliet, Hamlet, and Macbeth. I had the privilege to see Macbeth the play in real life. One of the actors in the play is a freshman from here at Northeast, and I was able to interview her.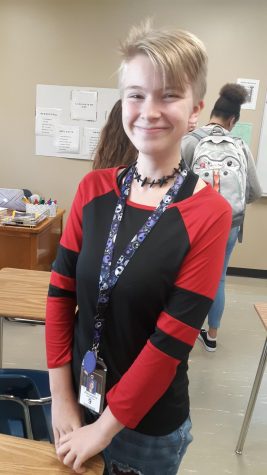 Alexandria Hamilton played several parts in the Macbeth play. Some included Fleance and a Lady in Waiting. I asked Alex how she felt about getting the part in the play and she answered saying, "I was excited because at first we weren't sure that I was going to get the part."
I was curious about why she got those parts so I decided to ask the Executive Director of Flatwater Shakespeare Company Summer Lukasiewicz herself. I must say that I was surprised by her answer, "Alex was originally cast as Fleance, the teenage son of Banquo. In an aim to keep our cast small and to utilize everyone's time well, there are a number of actors playing more than one role. Bob Hall, the production director, recognized that the Gentlewoman, or Lady in Waiting, was another role Alex could step into with the right costuming to make the doubling work. Both roles are small but include key scenes that Alex could fulfill."
I also decided to ask Lukasiewicz about her opinion on why Alex stood out compared to the other people that auditioned. She responded with, "Alex is the youngest actor who auditioned. Though occasionally we need young actors, as we do for Macbeth, we often recruit them after the fact as we mostly work with adult, professional actors."
Alex is the youngest one in the Macbeth play, so you automatically have to assume that she gets intimidated, right? Well, considering this question I decided to seek out the answer from Alex, she told me, "It's nice sometimes and other times you feel like you aren't doing as good, but other times it's a confidence booster because you made it here so it's like you also belong."
I also learned about what it's like to work with Alex. Lukasiewicz shared, "Alex proved herself to be professional in her conduct, showing up on time, being prepared, listening, and behaving respectfully to the other members of the company."
Of course Alex's parents had to have a reaction and I was curious what it was. I then decided to ask Alex for the answer she commented back saying, "I think they were more excited than me. Originally they weren't supposed to know but the news was everywhere."
In the end I decided to ask the Executive Director one last question, which was what "advice would you give to those who wish to perform?" Her response was inspiring to say the least. "Flatwater Shakespeare Company's auditions are open to all actors who are interested. Your work ethic and level of interest are demonstrated in your level of preparation, carefully reading requirements, and in how you treat everyone you encounter in the process. Shakespeare can sometimes be daunting, but there are many resources to help in audition preparation, and the company strives to be a positive and supportive environment for everyone involved."
This has taught me that you can do anything if you put your mind to it.