Seasons Greetings
More stories from Shaylee Wolff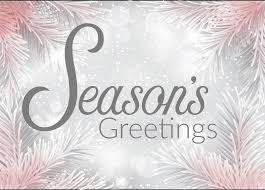 As the holidays begin, many families celebrate during these times. Some celebrate Christmas, Hanukkah, Kwanzaa, Roje, New Years, along with many other holidays. As December begins to slow down, family and friends understand the importance of family gatherings and celebrations. 
Hanukkah is a Jewish Festival of Lights, this year, this holiday is celebrated December 22nd through the 30th of December. Hanukkah remembers the rededication of the second Jewish Temple. During Hanukkah, on each of the eight nights, a candle is lit in a special menorah (candelabra) called a 'hanukkiyah.'
Kwanzaa is an African celebration of life celebrated from 26th of December through the 1st of January. Each of the seven days are spent celebrating this holiday represents one of the seven principles of Kwanzaa or Nguzo Saba. 
Christmas is a holiday that is typically well known around the world. As some people say, "Jesus is the reason for the Season." This holiday is celebrated with friends and family. During Christmas gifts are given and received.
Roje and Eda Rojiet Ezi is a three day fasting that starts on December 17th and continues through the 20th of December. The fasting occurs from dawn until sunset. Family and friends gather together. They pray, dance, and gather for a big meal. The families celebrate by buying gifts for each other. During these days curse words are forbidden because these words are considered disrespectful during this time. 
New Years is a holiday that is celebrated all throughout the world. Many people celebrate this holiday by choosing a New Years resolution. This means changing something to better yourself for the new year, whether it be eating healthier or limiting social media usage. 
Happy Holidays!