AFJROTCs Fight For 100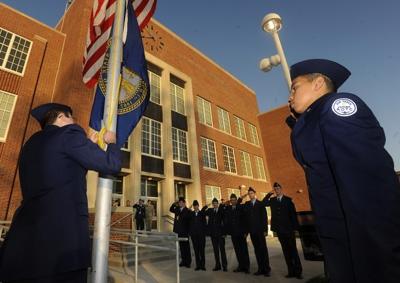 Loading ...
The Lincoln AFJROTC program has been around for 10 years now at Lincoln Northeast Highschool. It started up in July of 2009 and has since then accepted all public and private high school students to join Northeast students in class as cadets. It's a military sponsored program based to build better citizens of America, teaching high school students life skills and knowledge, in the fashion of the military. Being in the program does not obligate a student to join the military, but in the case they do, it will benefit them to an extent. However, the program at Northeast is in jeopardy. 
During its entire existence at LNE, the program has been on "probation" meaning it's on the verge of being shut down due to not meeting the required number of cadets to stay in the program. But after ten years of probation, it got serious this year, AFJROTC Headquarters stating they must have the minimum requirement by October 10th, otherwise the unit gets shut down for good. They are supposed to have 100 cadets at minimum due to the size of the school, and as of this moment the program has 99 cadets, just one shy of their goal. 
"AFJROTCs Headquarters mandates that there is 100 cadets in each program because that basically makes it worth [for them], the money they're putting in their program. They wanna impact students as much as they can, and so they would rather give their money to a program that's got 100 cadets than a program that's got 80, because it's more bang for their buck of building better citizens" explained Instructor Master Sergeant Trent Woodruff. 
Instructor Master Sergeant Trent Woodruff helped run a "JROTC field trip" day with a couple of the program's top cadets last Thursday to help draw in potential cadets. The day was dedicated to teaching those students what AFJROTC is about and what they do. The instructors and cadets showed them a week of AFJROTC in one day. It turned out to be very successful, gaining the program 5 new cadets the day after, bringing them to 99. 
If you are interested in learning about the AFJROTC program at Northeast, you can visit this link http://wp.lps.org/afjrotc/ or talk with Master Sergeant Trent Woodruff down in Room 10.